Estimation of CD4 Count and HIV Viral Load among HIV/AIDS Patients: An Analysis of Antiretroviral Therapy in Punjab Pakistan
Huma Shafique

Department of Biology, Lahore Garrison University, Lahore, Pakistan

Samavia siddique

Department of Biology, Lahore Garrison University, Lahore, Pakistan

Hasnain Javed

Punjab AIDS Control Program, Lahore, Pakistan
Keywords:
art drugs (antiretroviral drugs), HIV, CD4 count, viral load
Abstract
HIV/AIDS is a global health problem of the world. HIV type 1 mostly cause HIV infection in Asia and Europe and is also predominant in underdeveloped countries like Pakistan. HIV type 1, increases morbidity and mortality due to progressive damage of CD4 T cell.  Approximately, 2 million people were infected with HIV type 1 infection through sexual activities globally. Hence, the life expectancy of people living with HIV was increased by using combined antiretroviral therapy (CRT). In HIV prognosis, CD4 count is a very crucial marker of prognosis of HIV/AIDS. In the current research, we analyzed CD4 count of 118 HIV/ AIDS patients, who were taking antiretroviral treatment to evaluate their immune system. HIV viral load testing was done on the same number of patients through HIV quantitative PCR to evaluate the viral load. Statistical analysis was also done to check the percentage of viral load and association of CD4 count with the viral count. According to the results, there were a greater percentage of males (55.5%) than females (44.4%) who developed AIDS which is most devastating form of HIV infection. High viral load (>100000 copies/ml) was also observed higher in males (65.5%) than females (31.4%).
Downloads
Download data is not yet available.
References
Yomi, J., Ngano, O. S., Minlo, J., & Pagbe, J. J. (2015). Traitement des cancers associés au VIH/SIDA: Notre expérience de 25 ans à l'Hôpital Général de Yaoundé. HEALTH SCIENCES AND DISEASE, 16(4).
Gouda, S., Udayaraj, A., & Solanke, P. V. (2016). Clinical Spectrum of Pulmonary Tuberculosis in HIV Patients. International Journal of Contemporary Medicine, 4(1), 87
Katemba, C., Muzoora, C., Muwanguzi, E., Mwambi, B., Atuhairwe, C., & Taremwa, I. M. (2018). Hematological abnormalities in HIV-antiretroviral therapy naïve clients as seen at an immune suppression syndrome clinic at Mbarara Regional Referral Hospital, southwestern Uganda. Journal of blood medicine, 9, 105.
Lou, J., Cheng, J., Li, Y., Zhang, C., Xing, H., Ruan, Y., & Shao, Y. (2018). Comparison of different strategies for controlling HIV/AIDS spreading in MSM. Infectious Disease Modelling, 3, 293-300..
Bershteyn, A., Akullian, A. N., Klein, D. J., Jewell, B. L., Vandormael, A., Cuadros, D. F., ... & Welkhoff, P. A. (2018, July). Hotspots by Random Chance: Small Community Size and Isolation Can Explain "Patchiness" in HIV Epidemics. Poster] Exhibited at the 22nd International AIDS Conference.
Campbell, C., Andersen, L., Mutsikiwa, A., Madanhire, C., Nyamukapa, C., & Gregson, S. (2016). Can schools support HIV/AIDS-affected children? Exploring the 'ethic of care'amongst rural Zimbabwean teachers. PloS one, 11(1), e0146322.
Golubovskaya, V., & Wu, L. (2016). Different subsets of T cells, memory, effector functions, and CAR-T immunotherapy. Cancers, 8(3), 36.
Ifeanyichukwu, O. M., Bright, E. O., Meludu, S. C., & Okeke, C. O. (2016). Effect of HIV infection on some haematological parameters and immunoglobulin levels in hiv patients in benin city, Southern Nigeria. J HIV Retrovirus, 2, 2.
Kumari, R., Kumar, M., & Mohapatra, S. C. (2017). Clinico-demographic profile of HIV patients at ART centre of a tertiary care referral hospital in North India. International Journal Of Community Medicine And Public Health, 4(9), 3166-3173
Waickman, A. T., Ligons, D. L., Hwang, S., Park, J. Y., Lazarevic, V., Sato, N., ... & Park, J. H. (2017). CD4 effector T cell differentiation is controlled by IL-15 that is expressed and presented in trans. Cytokine, 99, 266-274.
Zeh, C., Rose, C. E., Inzaule, S., Desai, M. A., Otieno, F., Humwa, F., ... & Samandari, T. (2017). Laboratory-based performance evaluation of PIMA CD4+ T-lymphocyte count point-of-care by lay-counselors in Kenya. Journal of immunological methods, 448, 44-50.
Herbert, S., Edwards, S., Carrick, G., Copas, A., Sandford, C., Amphlett, M., & Benn, P. (2012). Evaluation of PIMA point-of-care CD4 testing in a large UK HIV service. Sexually transmitted infections, 88(6), 413-417.
Tendulkar, S., Wiebe, C., Woko, C., Ruelas, V., Wang, M., Visram, S., ... & Sengupta, N. (2015). Assessing Community Engagement (ACE)@ The Dimock Center: A Community-Based Participatory Research (CBPR) Project. Undergraduate Journal of Service Learning & Community-Based Research, 4, 1-26.
Faye, B., Mbow, M., Seck, M. C., Mbengue, B., Wade, D., Camara, M., ... & Niang, M. D. S. (2016). Evaluation of PIMATM CD4 system for decentralization of immunological monitoring of HIV-infected patients in Senegal. PloS one, 11(5), e0154000.
Gupta, S., Taylor, T., Patterson, A., Liang, B., Bullard, J., Sandstrom, P., ... & Ji, H. (2017). A robust PCR protocol for HIV drug resistance testing on low-level viremia samples. BioMed research international, 2017.
Yamazaki, S., Kondo, M., Sudo, K., Ueda, T., Fujiwara, H., Hasegawa, N., & Kato, S. (2016). A Qualitative Real-time PCR assay for HIV-1 and HIV-2 RNA. Japanese journal of infectious diseases, JJID-2015
Fuster, F., Vargas, J. I., Jensen, D., Sarmiento, V., Acuña, P., Peirano, F., ... & Ahumada, R. (2016). CD4/CD8 ratio as a predictor of the response to HBV vaccination in HIV-positive patients: A prospective cohort study. Vaccine, 34(16), 1889-1895
Farahani, M., Price, N., El-Halabi, S., Mlaudzi, N., Keapoletswe, K., Lebelonyane, R., ... & Gabaake, K. (2016). Trends and determinants of survival for over 200 000 patients on antiretroviral treatment in the Botswana National Program: 2002–2013. AIDS (London, England), 30(3), 477.
Ford, N., Meintjes, G., Pozniak, A., Bygrave, H., Hill, A., Peter, T., ... & Phanuphak, P. (2015). The future role of CD4 cell count for monitoring antiretroviral therapy. The Lancet Infectious Diseases, 15(2), 241-247.
Macías, J., Téllez, F., Rivero‐Juárez, A., Palacios, R., Morano, L. E., Merino, D., ... & Gómez‐Vidal, M. (2019). Early emergence of opportunistic infections after starting direct‐acting antiviral drugs in HIV/HCV‐coinfected patients. Journal of Viral Hepatitis, 26(1), 48-54.
May, M. T. (2017). Better to know: the importance of early HIV diagnosis. The Lancet Public Health, 2(1), e6-e7
Eholié, S. P., Badje, A., Kouame, G. M., N'takpe, J. B., Moh, R., Danel, C., & Anglaret, X. (2016). Antiretroviral treatment regardless of CD4 count: the universal answer to a contextual question. AIDS research and therapy, 13(1), 27
Myer, L., Essajee, S., Broyles, L. N., Watts, D. H., Lesosky, M., El-Sadr, W. M., & Abrams, E. J. (2017). Pregnant and breastfeeding women: a priority population for HIV viral load monitoring. PLoS medicine, 14(8), e1002375.
Gous, N., Scott, L., Berrie, L., & Stevens, W. (2016). Options to expand HIV viral load testing in South Africa: evaluation of the GeneXpert® HIV-1 viral load assay. PloS one, 11(12), e0168244.
Tanser, F., Vandormael, A., Cuadros, D., Phillips, A. N., de Oliveira, T., Tomita, A., ... & Pillay, D. (2017). Effect of population viral load on prospective HIV incidence in a hyperendemic rural African community. Science translational medicine, 9(420), eaam8012.
Assir, M. Z. K., Ahmad, F., Riaz, S. H., Adil, A., & Rashid, T. (2018). Viral Suppression and Loss To Follow Up in HIV/AIDS Patients on Antiretroviral Therapy in Pakistan. International Journal of Infectious Diseases, 73, 249.
Joulaei, H., Shooshtarian, S., & Dianatinasab, M. (2018). Is UNAIDS 90-90-90 target a dream or a reality for Middle East and North Africa region on ending the AIDS epidemic? A review study. AIDS Rev, 20(2), 83-93.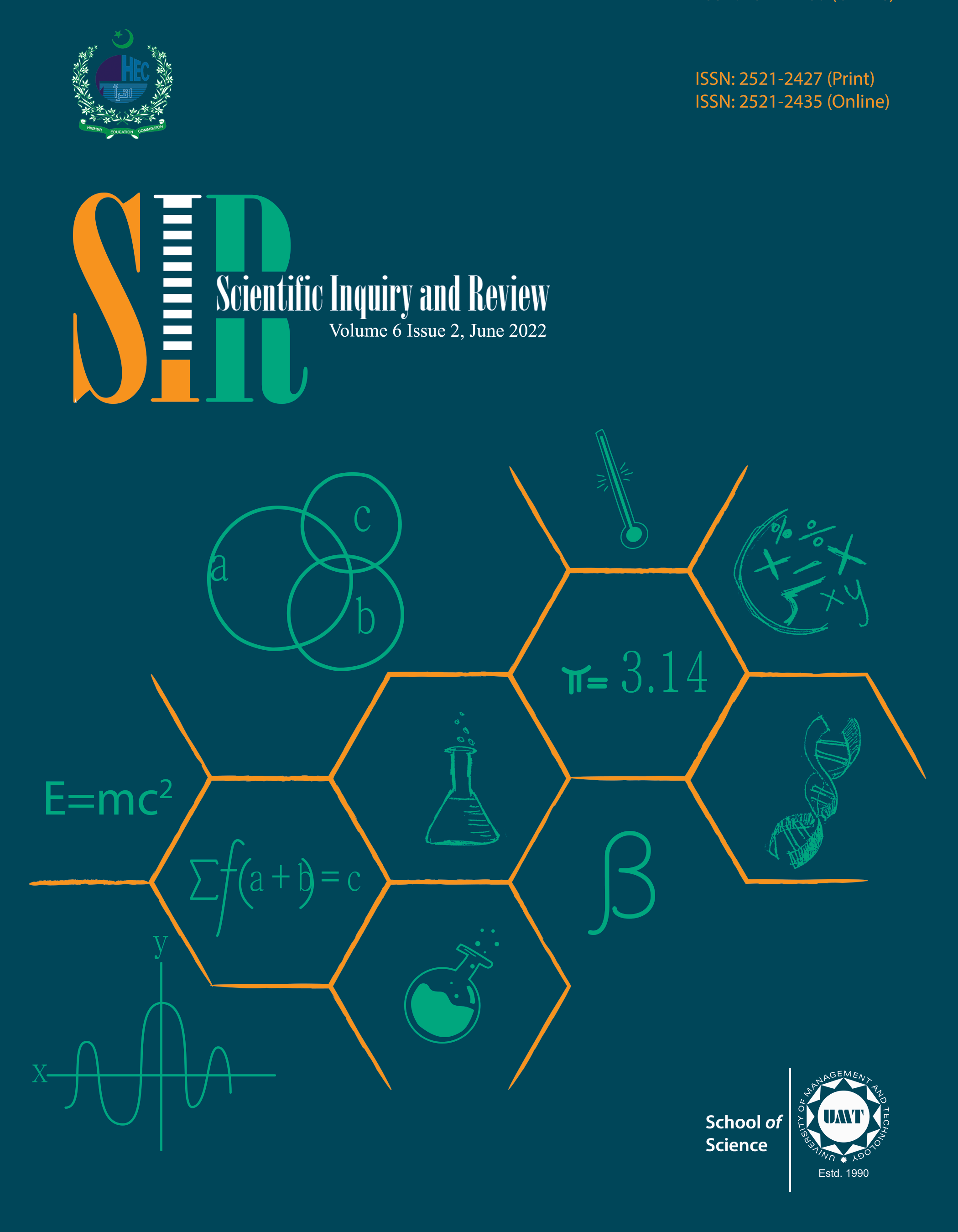 How to Cite
1.
Shafique H, siddique S, Javed H. Estimation of CD4 Count and HIV Viral Load among HIV/AIDS Patients: An Analysis of Antiretroviral Therapy in Punjab Pakistan. Sci Inquiry Rev. [Internet]. 2022Jun.18 [cited 2022Dec.5];6(2):76-8. Available from: https://journals.umt.edu.pk/index.php/SIR/article/view/1798
Copyright (c) 2022 Huma Shafique, Samavia siddique, Hasnain Javed
This work is licensed under a Creative Commons Attribution 4.0 International License.