Sources and Chemistry of Flavonoids: An Overview of their Biological and Therapeutic Potential
Shabbir Hussain

Institute of Chemistry, Khwaja Fareed University of Engineering and Information Technology, Rahim Yar Khan 64200, Pakistan

Waqar Mirza

Department of Chemistry, Lahore Garrison University, DHA Phase VI, Lahore, Pakistan

Mufliha Murtaza

Department of Chemistry, Lahore Garrison University, DHA Phase VI, Lahore, Pakistan

Ansa Nazir

Department of Chemistry, Lahore Garrison University, DHA Phase VI, Lahore, Pakistan

Iram Hanif

Department of Chemistry, Lahore Garrison University, DHA Phase VI, Lahore, Pakistan

Muhammad Ahmad

Department of Chemistry, Division of Science and Technology, University of Education, Lahore 54770, Pakistan
Keywords:
antioxidant potential, flavonoids, structure-activity relationship, working mechanism
Abstract
Flavonoids are natural polyphenolic compounds responsible for the taste and color of medicinal plants, herbs, fruits, and vegetables. Fruits (for example, berries, cherries, plums, apples, lemons, oranges, and grapes) and vegetables (for example., broad beans, olives, onions, spinach, and shallot) are the main sources of flavonoids. They also exist abundantly in cocoa products, black and green tea, red wine, red pepper, chamomile, celery, parsley, ginkgo, and mint. Flavonoid derivatives could also be synthesized through esterification, halogenation, alkoxylation, alkylation, aromatic hydroxylation, acylation, and conjugation with various organic compounds. Flavonoids could  also be supplemented  as a staple of food  which act as a nutraceutical agents and  play an important role in the human diet. They possess diverse biological activities including anti-inflammation, anti-oxidation, anti-cancer, anti-diabetes, anti-obesity, antimutagenic, neuroprotective, and also have beneficial effects on oxidative stress, inflammation, insulin resistance, lipid metabolism, and neurodegenerative diseases (for example., amyotrophic lateral sclerosis, Huntington's disease, Parkinson's disease and Alzheimer's disease). Flavonoids contain a 15-carbon skeleton; the basic structure consists of a flavan nucleus, a combination of two benzene and one pyran ring.  They are divided into eight important groups namely flavones, flavanols, isoflavones, flavan-3-ols, flavanonols, anthocyanidins, chalcones, and flavanones. A structure-activity relationship exists between flavonoids and their antioxidant activities. Flavonoids are effective in chelating metal ions and scavenging free radicals. Their antioxidant properties are governed by their –OH groups, differences in hydrophobicity, and molecular planarity.
Downloads
Download data is not yet available.
References
Hussain S, Javed M, Abid MA, Khan MA, Syed SK, Faizan M, Feroz F. Prunus Avium L.; Phytochemistry, Nutritional and Pharmacological Review. Adv Life Sci. 2021;8(4):307-314.
Rasheed RB, Hussain S, Syed SK. Phytochemistry, nutritional and medicinal value of kiwi fruit. Postepy Biol Komorki. 2021;48(2):147-165.
Rehman A, Adnan M. Nutritional potential of Pakistani medicinal plants and their contribution to human health in times of climate change and food insecurity. Pak J Bot. 2018;50(1):287-300.
Rehman A, Hussain S, Javed M, Ali Z, Rehman H, Shahzady TG, Zahra A. Chemical composition and remedial perspectives of Hippophae rhamnoides linn. Postepy Biol Komorki. 2018;45(3):199-209.
Kamran M, Hussain S, Abid MA, Syed SK, Suleman M, Riaz M, Iqbal M, Mahmood S, Saba I, Qadir R. Phytochemical composition of moringa oleifera its nutritional and pharmacological importance. Postepy Biol Komorki. 2020;47(3):321-334.
Naseer S, Hussain S, Zahid Z. Nutritional and antioxidant potential of common vegetables in Pakistan. RADS J Biol Res Appl Sci. 2019;10(1):36-40.
Riaz M, Fatima H, ur Rehman MM, Qadir R, Hussain S, Hafeez A, Siddique AB. Appraisal of antioxidant potential and biological studies of bogan bail (Bougainvillea glabra) leaf extracts using different solvents. Czech J. Food Sci. 2021;39(3):176-180.
Naseer S, Afzal M, Nisa A, Hussain S, Ahmad M, Parveen S, Anjum F, Riaz M. Extraction of brown dye from Eucalyptus bark and its applications in food storage. Qual Assur Saf Crop. 2019;11(8):769-780.
Javed M, Shoaib M, Iqbal Z, Khan MA, Hussain S, Amjad M. Phytochemical and Biological Studies on Curcuma longa L. in Pattoki (Kasur), Pakistan: Chemical and Biological studies of Curcuma longa. Proc Pak Acad Sci:B. 2020;57(2):59-66.
Naseer S, Hussain S, Naeem N, Pervaiz M, Rahman M. The phytochemistry and medicinal value of Psidium guajava (guava). Clin Phytoscience. 2018;4(1):1-8.
Peterson J, Dwyer J. Flavonoids: dietary occurrence and biochemical activity. Nutr Res. 1998;18(12):1995-2018.
Rice-Evans C, Miller N, Paganga G. Antioxidant properties of phenolic compounds. Trends Plants Sci. 1997;2(4):152-159.
Al-Snafi AE. Phenolics and flavonoids contents of medicinal plants, as natural ingredients for many therapeutic purposes-A review. IOSR J Pharm. 2020;10:42-81.
Vrhovsek U, Rigo A, Tonon D, Mattivi F. Quantitation of polyphenols in different apple varieties. J Agric Food Chem. 2004;52(21):6532-6538.
Nabavi SM, Šamec D, Tomczyk M, Milella L, Russo D, Habtemariam S, Suntar I, Rastrelli L, Daglia M, Xiao J. Flavonoid biosynthetic pathways in plants: Versatile targets for metabolic engineering. Biotechnol Adv. 2020;38:107316.
Rodríguez-García C, Sánchez-Quesada C, Gaforio JJ. Dietary flavonoids as cancer chemopreventive agents: An updated review of human studies. Antioxidants. 2019;8(5):137.
Samanta A, Das G, Das SK. Roles of flavonoids in plants. Carbon. 2011;100(6):12-35.
Jorgensen RA. Cosuppression, flower color patterns, and metastable gene expression states. Science. 1995;268(5211):686-691.
Dixon RA, Pasinetti GM. Flavonoids and isoflavonoids: from plant biology to agriculture and neuroscience. Plant Physiol. 2010;154(2):453-457.
Kumar S, Pandey AK. Chemistry and biological activities of flavonoids: an overview. Sci World J. 2013;2013.
Panche A, Chandra S, Ad D, Harke S. Alzheimer's and current therapeutics: A review. Asian J Pharm Clin Res. 2015;8(3):14-19.
Castellano G, González-Santander JL, Lara A, Torrens F. Classification of flavonoid compounds by using entropy of information theory. Phytochemistry. 2013;93:182-191.
Karak P. Biological activities of flavonoids: an overview. Int J Pharm Sci. 2019;10(4):1567-1574.
Scarano A, Chieppa M, Santino A. Looking at flavonoid biodiversity in horticultural crops: A colored mine with nutritional benefits. Plants. 2018;7(4):98.
Giusti MM, Wallace TC. Flavonoids as natural pigments. Handbook of natural colorants. 2009;8:257.
Liu J, Wang X, Yong H, Kan J, Jin C. Recent advances in flavonoid-grafted polysaccharides: Synthesis, structural characterization, bioactivities and potential applications. Int J Biol Macromol. 2018;116:1011-1025.
Kofink M, Papagiannopoulos M, Galensa R. (-)-Catechin in cocoa and chocolate: occurence and analysis of an atypical flavan-3-ol enantiomer. Molecules. 2007;12(7):1274-1288.
Braicu C, Ladomery MR, Chedea VS, Irimie A, Berindan-Neagoe I. The relationship between the structure and biological actions of green tea catechins. Food Chem. 2013;141(3):3282-3289.
Arts IC, Van De Putte B, Hollman PC. Catechin contents of foods commonly consumed in The Netherlands. 1. Fruits, vegetables, staple foods, and processed foods. J Agric Food Chem. 2000;48(5):1746-1751.
Wu X, Gu L, Prior RL, McKay S. Characterization of anthocyanins and proanthocyanidins in some cultivars of Ribes, Aronia, and Sambucus and their antioxidant capacity. J Agric Food Chem. 2004;52(26):7846-7856.
de Pascual-Teresa S, Santos-Buelga C, Rivas-Gonzalo JC. Quantitative analysis of flavan-3-ols in Spanish foodstuffs and beverages. J Agric Food Chem. 2000;48(11):5331-5337.
Landberg R, Naidoo N, van Dam RM. Diet and endothelial function: from individual components to dietary patterns. Curr Opin Lipidol. 2012;23(2):147-155.
Mejri F, Selmi S, Martins A, Baati T, Chaabane H, Njim L, Serralheiro ML, Rauter AP, Hosni K. Broad bean (Vicia faba L.) pods: A rich source of bioactive ingredients with antimicrobial, antioxidant, enzyme inhibitory, anti-diabetic and health-promoting properties. Food & function. 2018;9(4):2051-2069.
Romani A, Mulinacci N, Pinelli P, Vincieri FF, Cimato A. Polyphenolic content in five tuscany cultivars of Olea europaea L. J Agric Food Chem. 1999;47(3):964-967.
Slimestad R, Fossen T, Vågen IM. Onions: a source of unique dietary flavonoids. J Agric Food Chem. 2007;55(25):10067-10080.
Pandjaitan N, Howard L, Morelock T, Gil M. Antioxidant capacity and phenolic content of spinach as affected by genetics and maturation. J Agric Food Chem. 2005;53(22):8618-8623.
Fattorusso E, Iorizzi M, Lanzotti V, Taglialatela-Scafati O. Chemical composition of shallot (Allium ascalonicum Hort.). J Agric Food Chem. 2002;50(20):5686-5690.
Dewick PM. Medicinal natural products: a biosynthetic approach: John Wiley & Sons; 2002.
Lou H, Hu L, Lu H, Wei T, Chen Q. Metabolic Engineering of Microbial Cell Factories for Biosynthesis of Flavonoids: A Review. Molecules. 2021;26(15):4522.
Obaid RJ, Mughal EU, Naeem N, Sadiq A, Alsantali RI, Jassas RS, Moussa Z, Ahmed SA. Natural and synthetic flavonoid derivatives as new potential tyrosinase inhibitors: A systematic review. RSC Adv. 2021;11(36):22159-22198.
Harborne JB, Marby H, Marby T. The flavonoids: Springer; 2013.
Iwashina T. The structure and distribution of the flavonoids in plants. J Plant Res. 2000;113(3):287.
Farhadi F, Khameneh B, Iranshahi M, Iranshahy M. Antibacterial activity of flavonoids and their structure–activity relationship: An update review. Phytother Research. 2019;33(1):13-40.
Raffa D, Maggio B, Raimondi MV, Plescia F, Daidone G. Recent discoveries of anticancer flavonoids. Eur J Med Chem. 2017;142:213-228.
Matsui K, Walker AR. Biosynthesis and regulation of flavonoids in buckwheat. Breeding science. 2020;70(1):74-84.
Šmejkal K, Malaník M, Zhaparkulova K, Sakipova Z, Ibragimova L, Ibadullaeva G, Žemlička M. Kazakh Ziziphora species as sources of bioactive substances. Molecules (Basel, Switzerland). 2016;21(7):826.
Kabanda MM, Gbashi S, Madala NE. Proportional coexistence of okanin chalcone glycoside and okanin flavanone glycoside in Bidens pilosa leaves and theoretical investigation on the antioxidant properties of their aglycones. Free Radic Res. 2021;55(1):53-70.
Middleton E. Effect of plant flavonoids on immune and inflammatory cell function. Flavonoids in the living system: Springer; 1998. p. 175-182.
Madunić J, Madunić IV, Gajski G, Popić J, Garaj-Vrhovac V. Apigenin: A dietary flavonoid with diverse anticancer properties. Cancer Lett. 2018;413:11-22.
Martínez G, Mijares MR, De Sanctis JB. Effects of Flavonoids and Its Derivatives on Immune Cell Responses. Molecules (Basel, Switzerland).2019;13(2):84-104.
Nichenametla SN, Taruscio TG, Barney DL, Exon JH. A review of the effects and mechanisms of polyphenolics in cancer. Crit Rev Food Sci Nutr. 2006;46(2):161-183.
Brodowska KM. Natural flavonoids: classification, potential role, and application of flavonoid analogues. Eur J Biol Res. 2017;7(2):108-123.
Mallavadhani UV, Mahapatra A. A new aurone and two rare metabolites from the leaves of Diospyros melanoxylon. Nat Prod Res. 2005;19(1):91-97.
Chirumbolo S. The role of quercetin, flavonols and flavones in modulating inflammatory cell function. Inflam Allergy Drug Targets (Formerly Current Drug Targets-Inflammation & Allergy) 2010;9(4):263-285.
Nile SH, Keum YS, Nile AS, Jalde SS, Patel RV. Antioxidant, anti‐inflammatory, and enzyme inhibitory activity of natural plant flavonoids and their synthesized derivatives. J Biochem Mol Toxicol. 2018;32(1):e22002.
Kumar P, Dixit J, Saini R, Verma P, Mishra AK, NathTiwari K. Potential of Flavonoids as Anticancer Drugs. Phytopharmaceuticals: Pot Ther App. 2021:135-159.
Barreca D, Trombetta D, Smeriglio A, Mandalari G, Romeo O, Felice MR, Gattuso G, Nabavi SM. Food flavonols: Nutraceuticals with complex health benefits and functionalities. 2021.
Panche A, Diwan A, Chandra S. Flavonoids: an overview. J Nutr Sci.2016;5.
Mays JR, Hill SA, Moyers JT, Blagg BS. The synthesis and evaluation of flavone and isoflavone chimeras of novobiocin and derrubone. Biorg Med Chem. 2010;18(1):249-266.
Ccana-Ccapatinta GV, Mejía JAA, Tanimoto MH, Groppo M, Carvalho JCASd, Bastos JK. Dalbergia ecastaphyllum (L.) Taub. and Symphonia globulifera Lf: The botanical sources of isoflavonoids and benzophenones in Brazilian red propolis. Molecules. 2020;25(9):2060.
Tandon V, Das B. Genistein: is the multifarious botanical a natural anthelmintic too? J Parasit Dis. 2018;42(2):151-161.
Król-Grzymała A, Amarowicz R. Phenolic compounds of soybean seeds from two european countries and their antioxidant properties. Molecules. 2020;25(9):2075.
Chakrawarti L, Agrawal R, Dang S, Gupta S, Gabrani R. Therapeutic effects of EGCG: a patent review. Expert Opin Ther Pat. 2016;26(8):907-916.
Tsao R. Chemistry and biochemistry of dietary polyphenols. Nutrients. 2010;2(12):1231-1246.
Hua S, Zhang Y, Liu J, Dong L, Huang J, Lin D, Fu X. Ethnomedicine, phytochemistry and pharmacology of Smilax glabra: An important traditional Chinese medicine. Am J Chinese Med. 2018;46(02):261-297.
Yuan J, Dou D, Chen Y, Li W, Kazuo K, Tamotsu N, Yao X. Studies on dihydroflavonol glycosides from rhizome of Smilax glabra. Zhongguo Zhong yao za zhi= Zhongguo Zhongyao Zazhi= China J Chinese Materia Medica. 2004;29(9):867-870.
D Archivio M, Filesi C, Di Benedetto R, Gargiulo R, Giovannini C, Masella R. Polyphenols, dietary sources and bioavailability. Annali-Istituto Superiore di Sanita. 2007;43(4):348.
Ananga A, Obuya J, Ochieng J, Tsolova V. Grape seed nutraceuticals for disease prevention: current status and future prospects. Phenolic Compounds–Biol Act. 2017:119-137.
Stalikas CD. Extraction, separation, and detection methods for phenolic acids and flavonoids. J Sep Sci. 2007;30(18):3268-3295.
K Sahu N, S Balbhadra S, Choudhary J, V Kohli D. Exploring pharmacological significance of chalcone scaffold: a review. Curr Med Chem. 2012;19(2):209-225.
Yang N, Patil S, Zhuge J, Wen MC, Bolleddula J, Doddaga S, Goldfarb J, Sampson HA, Li XM. Glycyrrhiza uralensis flavonoids present in anti‐asthma formula, ASHMITM, inhibit memory Th2 responses in vitro and in vivo. Phytother Res. 2013;27(9):1381-1391.
Li L-J, Tan W-S, Li W-J, Zhu Y-B, Cheng Y-S, Ni H. Citrus taste modification potentials by genetic engineering. Int J Mol Sci. 2019;20(24):6194.
Shankar E, Goel A, Gupta K, Gupta S. Plant flavone apigenin: An emerging anticancer agent. Curr Pharmacol Rep. 2017;3(6):423-446.
Wang J, Wang H, Sun K, Wang X, Pan H, Zhu J, Ji X, Li X. Chrysin suppresses proliferation, migration, and invasion in glioblastoma cell lines via mediating the ERK/Nrf2 signaling pathway. Drug Des Devel Ther. 2018;12:721.
Khan NM, Haseeb A, Ansari MY, Haqqi TM. A wogonin-rich-fraction of Scutellaria baicalensis root extract exerts chondroprotective effects by suppressing IL-1β-induced activation of AP-1 in human OA chondrocytes. Sci Rep. 2017;7:43789.
Monowar T, Rahman M, Bhore SJ, Raju G, Sathasivam KV. Secondary metabolites profiling of Acinetobacter baumannii associated with chili (Capsicum annuum L.) leaves and concentration dependent antioxidant and prooxidant properties. BioMed Res Int. 2019;2019.
Barbouti A, Goulas V. Dietary Antioxidants in the Mediterranean Diet; MDPI. 2021.
Ali SS, Ahsan H, Zia MK, Siddiqui T, Khan FH. Understanding oxidants and antioxidants: Classical team with new players. J Food Biochem. 2020;44(3):e13145.
Heim KE, Tagliaferro AR, Bobilya DJ. Flavonoid antioxidants: chemistry, metabolism and structure-activity relationships. J Nutr Biochem. 2002;13(10):572-584.
Pandey A, Mishra A, Mishra A. Antifungal and antioxidative potential of oil and extracts derived from leaves of Indian spice plant Cinnamomum tamala. CMB. 2012;58(1):142-147.
Wang X, Li Y, Han L, Li J, Liu C, Sun C. Role of Flavonoids in the Treatment of Iron Overload. Front Cell Dev Biol. 2021;9.
Walsh CT, Moore BS. Enzymatic cascade reactions in biosynthesis. Angew Chem Int Ed. 2019;58(21):6846-6879.
Alkadi H. A review on free radicals and antioxidants. Infec Disord-Drug Targets (Formerly Current Drug Targets-Infectious Disorders). 2020;20(1):16-26.
Kejík Z, Kaplánek R, Masařík M, Babula P, Matkowski A, Filipenský P, Veselá K, Gburek J, Sýkora D, Martásek P. Iron complexes of flavonoids-antioxidant capacity and beyond. Int J Mol Sci. 2021;22(2):646.
Procházková D, Boušová I, Wilhelmová N. Antioxidant and prooxidant properties of flavonoids. Fitoterapia. 2011;82(4):513-523.
Amic D, Davidovic-Amic D, Beslo D, Rastija V, Lucic B, Trinajstic N. SAR and QSAR of the antioxidant activity of flavonoids. Curr Med Chem. 2007;14(7):827-845.
Dugas Jr AJ, Castañeda-Acosta J, Bonin GC, Price KL, Fischer NH, Winston GW. Evaluation of the total peroxyl radical-scavenging capacity of flavonoids: structure− activity relationships. J Natural Prod. 2000;63(3):327-331.
Santos MR, Mira L. Protection by flavonoids against the peroxynitrite-mediated oxidation of dihydrorhodamine. Free Radic Res. 2004;38(9):1011-1018.
Moalin M, Van Strijdonck GP, Beckers M, Hagemen GJ, Borm PJ, Bast A, Haenen GR. A planar conformation and the hydroxyl groups in the B and C rings play a pivotal role in the antioxidant capacity of quercetin and quercetin derivatives. Molecules. 2011;16(11):9636-9650.
Çelik H, Arinç E. Evaluation of the protective effects of quercetin, rutin, naringenin, resveratrol and trolox against idarubicin-induced DNA damage. J Pharm Pharm Sci. 2010;13(2):231-241.
Heijnen C, Haenen G, Van Acker F, Van der Vijgh W, Bast A. Flavonoids as peroxynitrite scavengers: the role of the hydroxyl groups. Toxicol in Vitro. 2001;15(1):3-6.
Wiegand H, Wagner AE, Boesch-Saadatmandi C, Kruse H-P, Kulling S, Rimbach G. Effect of dietary genistein on Phase II and antioxidant enzymes in rat liver. CGP. 2009;6(2):85-92.
Lee-Hilz YY, Boerboom A-MJ, Westphal AH, van Berkel WJ, Aarts JM, Rietjens IM. Pro-oxidant activity of flavonoids induces EpRE-mediated gene expression. Chem Res Toxicol. 2006;19(11):1499-1505.
Wolfe KL, Liu RH. Structure− activity relationships of flavonoids in the cellular antioxidant activity assay. J Agric Food Chem. 2008;56(18):8404-8411.
Wen X, Walle T. Methylated flavonoids have greatly improved intestinal absorption and metabolic stability. DMD. 2006;34(10):1786-1792.
Walle T, Ta N, Kawamori T, Wen X, Tsuji PA, Walle UK. Cancer chemopreventive properties of orally bioavailable flavonoids—methylated versus unmethylated flavones. Biochem Pharm. 2007;73(9):1288-1296.
Malešev D, Kuntić V. Investigation of metal-flavonoid chelates and the determination of flavonoids via metal-flavonoid complexing reactions. J Serbian Chem Soc. 2007;72(10):921-939.
Borges Bubols G, da Rocha Vianna D, Medina-Remon A, von Poser G, Maria Lamuela-Raventos R, Lucia Eifler-Lima V, Cristina Garcia S. The antioxidant activity of coumarins and flavonoids. Mini Rev Med Chem. 2013;13(3):318-334.
Farhat N, Hussain S, Syed SK, Amjad M, Javed M, Iqbal M, Hussain M, Haroon SM, Raza H, Butt SZ. Dietary phenolic compounds in plants: Their antioxidant and pharmacological potential. Postepy Biol Komorki. 2020;47(3):307-320.
Tapas AR, Sakarkar D, Kakde R. Flavonoids as nutraceuticals: a review. Trop J Pharm Res. 2008;7(3):1089-1099.
Kaleem M, Ahmad A. Flavonoids as nutraceuticals. Therapeutic, probiotic, and unconventional foods: Elsevier; 2018. p. 137-155.
Kim C, Hwang J-K. Flavonoids: nutraceutical potential for counteracting muscle atrophy. Food Sci Biotechnol. 2020;29(12):1619-1640.
Salaritabar A, Darvishi B, Hadjiakhoondi F, Manayi A, Sureda A, Nabavi SF, Fitzpatrick LR, Nabavi SM, Bishayee A. Therapeutic potential of flavonoids in inflammatory bowel disease: A comprehensive review. World J Gastroenterol. 2017;23(28):5097.
Burak M, Imen Y. Flavonoids and their antioxidant properties. Turkiye Klin Tip Bil Derg. 1999;19:296-304.
Maher P. The potential of flavonoids for the treatment of neurodegenerative diseases. Int J Mol Sci. 2019;20(12):3056.
Metodiewa D, Kochman A, Karolczak S. Evidence for antiradical and antioxidant properties of four biologically active N, N‐Diethylaminoethyl ethers of flavaone oximes: A comparison with natural polyphenolic flavonoid rutin action. IUBMB Life. 1997;41(5):1067-1075.
Hayashi T, Sawa K, Kawasaki M, Arisawa M, Shimizu M, Morita N. Inhibition of cow's milk xanthine oxidase by flavonoids. J Nat Prod. 1988;51(2):345-348.
Goodman R. Encyclopedia of Plant and Crop Science (Print): Routledge; 2004.
Srivastava N, Bezwada R. Flavonoids: The Health Boosters. White Paper. Hillsborough NJ: Indofine Chem Company. 2015.
Metzner JE, Frank T, Kunz I, Burger D, Riegger C. Study on the pharmacokinetics of synthetic genistein after multiple oral intake in post-menopausal women. Arzneimittelforschung. 2009;59(10):513-520.
Wiseman H. The therapeutic potential of phytoestrogens. Expert Opin Investig Drugs. 2000;9(8):1829-1840.
Van De Wier B, Koek GH, Bast A, Haenen GR. The potential of flavonoids in the treatment of non-alcoholic fatty liver disease. Critic Rev Food Sci Nut. 2017;57(4):834-855.
Batra P, Sharma AK. Anti-cancer potential of flavonoids: recent trends and future perspectives. Biotech. 2013;3(6):439-459.
Sharma V, Sehrawat N, Sharma A, Yadav M, Verma P, Sharma AK. Multifaceted antiviral therapeutic potential of dietary flavonoids: Emerging trends and future perspectives. Biotechnol Appl Biochem. 2021.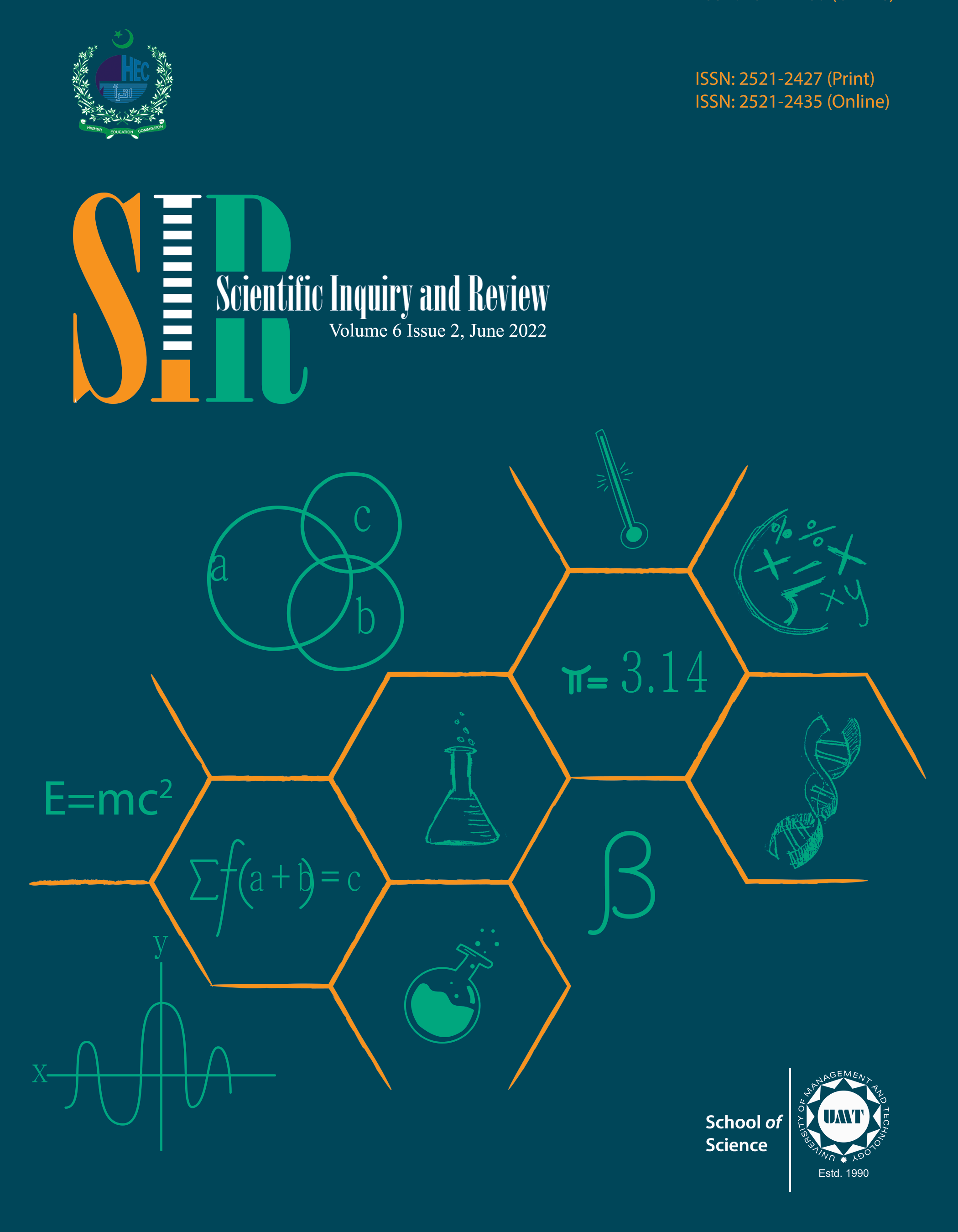 How to Cite
1.
Hussain S, Waqar Mirza, Murtaza M, Nazir A, Hanif I, Ahmad M. Sources and Chemistry of Flavonoids: An Overview of their Biological and Therapeutic Potential. Sci Inquiry Rev. [Internet]. 2022May25 [cited 2022Dec.5];6(2):32-8. Available from: https://journals.umt.edu.pk/index.php/SIR/article/view/2091
Copyright (c) 2022 Dr Shabbir Hussain, Waqar Mirza, Mufliha Murtaza, Ansa Nazir, Iram Hanif, Muhammad Ahmad
This work is licensed under a Creative Commons Attribution 4.0 International License.